(The bus stop from Naha airport to
Hilton Okinawa Chatan Resorts. I
t was fine weather.)
This time, I tried staying at Hilton Okinawa Chatan Resorts and using Hilton's diamond VIP benefits by
status match.
If you review Hilton's diamond VIP member benefits, it is as follows.
<Basic benefits> · 50% Elite Member Bonus · Late check-out · 1 guest (s) for free of charge · There is free use of Fitness Club Furthermore, in the case of Conrad, Hilton, Doubletree by Hilton, · Upgrade to Preferred Room · Hilton HHonors bonus points 1,000 points for one night stay · Every day during your stay, maximum of 1 guest staying in the same room with guests, complimentary continental breakfast · Executive Floor Round Free
Access I used a limousine bus from Naha Airport. It was 800 yen one way. It was cheaper than a taxi. If you want to sightsee in various ways, I recommend a rental car, but if it is only hotel, the bus is good. The bus stop is number 12. I bought a ticket at the airport. I got two receipts and tickets. Also, a tag with the name of the hotel will be handed over and will be attached to the carry bag by yourself. Then, I gave a ticket to the attendant at the bus stop. In addition, I bought the return tickets at the hotel. I was asked the name and destination, and I got the ticket filled out. The inside of the car was like this. Although it was called a limousine bus, I felt a bit old.
Chek in and greetings
I arrived at the hotel in about an hour from the airport.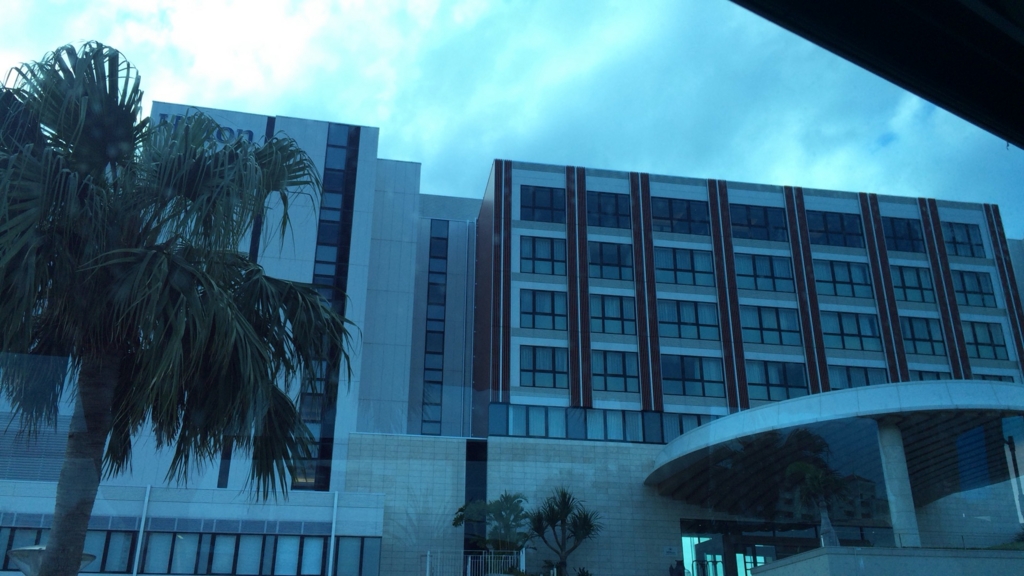 (It was bluish due to the influence of the window glass since it was taken from the bus.) I got off the bus and got picked up as soon as I got to the hotel. I was confirmed the name by a hotel staff. Since she was attaching a pin microphone, I thougt my information was sent to the reception etc soon. In Hilton, a staff gave welcome drink in the lobby until ready for reception. Everyone seemed to be able to drink welcome drink.
(Lobby ) Check in time at the reception was a few minutes. I felt welcomed and I was very comfortable. The breakfast can be eaten in the restaurant, the receptionist recommended executive lounge with a boastful croissant. I hoped Italian for dinner, but if it was full reservation. I will talk about after buffet, but if I can make a reservation again I would like to have Italian for dinner. Well, I got a greeting carefully given the business card from the lodging control deputy general manager and the deputy general manager unexpectedly. I heard from the deputy general, "Where do you usually use?". Because I became a diamond with a status match, "I have not gone so much" I cheated. The waiting time of the reception was probably the time for these two people to come. I thought that this kind of communication was also required for the reason that the state was special with diamond VIP.
Room Two other people guided me to the room. Like the Mercure Okinawa, the elevator did not operate unless the card key was touched in the elevator. The room was not a high-rise floor, but it was upgraded. It also had a balcony. It was large and beautiful and the scenery was also good. The bed comfort was very nice. Although it was small, it was good to be able to watch a movie. However, amenity was a bit better, excessive expectations are forbidden.
(Room full view.It was reservation with King bed of city view room, but it was using king bed of ocean view + executive lounge.It was well told that fitness can be used for free.)
(It is a private balcony, there was a place not in other rooms when looking around. As soon as I entered the room I got a welcome gift sweets. It was very wonderful where the people who came to deliver came from. Because there was no other person 's signs.
There was a magazine in the room. The hotel room where the magazine was placed was the first time in my life. I wonder if I could have brought this magazine ... · · · Lounge The Executive Lounge was located on 9th floor and diamond members were available for free. It was a bit crowded during the evening cocktail hours.
Because there were a lot of cooking and cooking, it was a level that I thought whether it was good for dinner. I thought it was somewhat luxurious from the Sheraton lounge. The hotel staff seemed to be busy.
Tandoori chicken, ham, mozzarella cheese, tomato, lettuce, fu-Champloo and grapefruit juice were lightly received, all was delicious. Of course there were alcohols. Dinner We had dinner at 3F Suriyun. The inside of the restraurant was wide. Japanese, Western, Vietnamese cuisine were the main, and there were so many kinds of dishes.
Everything was reasonably delicious, but there was no superstar-class dish to mention. Dare to say, was it about a mango pudding and a potato cake?
I also tried Vietnamese cuisine, but they had a bit of a habit. they were sour and hot.
There is Okinawa cuisine, there are Okinawa soba, Tebichi, and Champloo.
Breakfast I went to the executive lounge as scheduled. It was empty than yesterday and it was easy to spend. Everything was delicious except for ham which was like a commercially available smell.
(I will add a croissant to the yellow sauce on the upper left) There were two kinds of croissants that the receptionist recommended. Outside was crisp but the inside was texture and it was very delicious when combined with the citrus sauce of garnish.
(This is a plain croissant) However, the most delicious was Okinawa style food called rice and Inamuguchi, the soup of Okinawan cuisine. Soup stock was generally good and I thought that it was very delicious.
Around the hotel In the surroundings of the hotel there is a sunset beach, and just in the evening, many sight-seeing photographs were taken taking a sunset back. On the other hand, the gap with the graffiti of breakwaters was impressive. American village was near, too and thought that it was good for shopping. Also, there are many restaurants, so you should not be bothered for dinner. It was a shaking area in the base problem, and it was also an area with many Americans. Summary Although the charge was expensive, I thought that it was a good hotel to taste the benefits of diamond VIP. Especially the quality of the hotel staff was very high. Even now I heard a word of "too short" that the deputy general manager said after I heard that it was two nights and two nights .
This article was written in March 2016.